23. February 2017
Wiki listings:
How old are you, and how old do you wish you were?
Heino Niederhausen (HN): I was born in 1969, in the early years of Generation X. I'm happy with my age, although I admit it would be exciting to take a look at the future or experience the past again with the knowledge I possess now.
Sven Voelpel (SV): 41, 41. I presume that these two continually incrementing ages will continue to be identical my whole life long. I'm also a representative of Generation X or the German concept "Generation Golf", although I've never had a VW Golf.
What does age mean to you?
HN: When I started to take a look at the topics of age and demographic change professionally. So to speak, almost ten years ago, both of the terms were largely associated with negative connotations. To be honest, my first impressions of age weren't much more positive either. Since then I have spent a great deal of time working with the concept of age and have become aware of the enormous flexibility available to each and every individual when it comes to leading an active life at any age. Ever since I realised that I have considerable influence over my own age, it has simply become a number to me – nothing more, nothing less.
SV: An increase in experience, composure and happiness: Academic studies confirm time and time again that emotional experience changes as we age. On the one hand, emotional situations are handled with a higher degree of composure. On the other hand, older people on average report that they do not have as many strongly negative moods, are less anxious and experience symptoms of depression less frequently.
Mr Niederhausen, what are you looking forward to when you're 100?
HN: With the speed at which technological advances are happening today, I'm really looking forward to advances in medicine and healthcare continually improving our everyday private and professional lives. Above all, I'm looking forward to a radical change in the way society perceives age. By the time I'm 100, the term "old" might even have become completely archaic and people will be defined on the basis of their personal interests and talents.
"By the time I'm 100, the term "old" might even have become completely archaic and people will be defined on the basis of their personal interests and talents."
You came up with the idea for the EY ALTER exhibition together. How did that come about?
SV: Mercedes-Benz has been researching a number of different issues concerning the topic of demographic change with me and my WISE research group since 2004 and with the WDN – WISE Demographic Network since 2007. Finally Heino Niederhausen was so taken with the subject matter that he suggested meeting for a drink one Sunday at the beer garden in the city park, where he jotted down the first ideas for the exhibition on a piece of paper and we both began discussing it enthusiastically.
HN: I've still got that piece of paper. It has a picture of the Bremish Universum museum and one of our former Bremish mayor Henning Scherf, who particularly inspired me with the idea for the exhibition. In this time we already had initiated a range of measures concerning demographic change at Mercedes in Bremen. For example, in 2012 we founded a team which functions on the basis of age structure analyses as an impulse generator for strategic HR restructuring processes. As such, we had already come into contact with the issue of attitudes towards ageing at various locations.
What is the main aim of the exhibition? What are visitors supposed to take away with them?
SV: The aim is to provoke a change in attitude among the general population. For example, we want to do away with negative statements about ageing, which assume that ageing automatically involves processes of deterioration. That is not true, scientifically speaking. Our attitude has a much greater bearing on our life. Replacing these negative associations surrounding the topic of ageing with a differentiated, positive perspective, which describes the deterioration and growth processes equally, will make it possible to effect a change in attitude and thus achieve a positive life course with multiplied growth processes – in old age too.
HN: Today efforts are being made on the part of academia and public institutions to change the perception of ageing in society based on more recent findings. However, they often take the form of informative material and brochures with only a limited reach. Our starting point was to create a medium which takes an entertaining approach to the issue of ageing. It is an interactive exhibition where visitors can experience first-hand at numerous creative and interesting stations the opportunities that arise as one grows older; an exhibition which is thought-provoking without seeming to lecture.
Mr Niederhausen, why Mercedes­-Benz? Developing exhibitions is not exactly one of the core areas of expertise for a car manufacturer …
HN: I am pleased to say that we have a very low level of staff turnover in all our German plants. This means that employees at an advanced stage of their careers also wish to remain with us in the automobile sector. This is undeniably a challenge, but also a great opportunity. For us it is important to support staff in using and developing their skills, irrespective of their age. I am convinced that motivation is all-important here.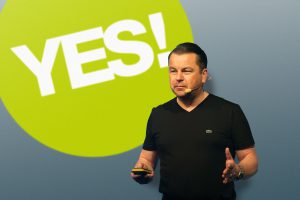 The exhibition is part of a large-scale demographics initiative by Mercedes-Benz. The project YES stands for Young and Experienced together Successful. Mr Voelpel, what strengths can younger people offer and what strengths older people? And has this been scientifically confirmed?
SV: Young and old staff members complement each other perfectly. Younger employees often bring into the mix the new know-how from their training, a higher level of enthusiasm and more innovative ideas. Older employees, on the other hand, offer experienced-based knowledge, emotional stability and strength of judgement. This, in turn, has a positive effect on ideas. Together, the two groups form an ideal network for jointly implementing these ideas. This has been confirmed in numerous scientific projects sponsored by the Federal Ministry of Education and Research, the German Research Foundation and the Volkswagen Foundation.
Mr Niederhausen, what emotions do you feel when you think about the demographic developments in German: panic, calm, hope …?

HN: In my view, demographic change offers the chance to take a new look at the status quo and approach things differently. We need to distance ourselves from the traditional pigeonholing of people as either young or old and take this opportunity to redefine and shape the future and the way we deal with ageing.
"In my view, demographic change offers the chance to take a new look at the status quo and approach things differently."
The exhibition addresses the individual: "your age, your potential, your team …" How important is it in your view to make the individual more aware of ageing, and what needs to change in terms of politics, industry and society as a whole?
SV: Visitors to this exhibition will change their attitudes towards ageing and in turn apply this new philosophy to their professional and private lives. As such, these attitudes will gain a firmer foothold in society and also become tangible in politics and industry.
HN: For me, it is essential that society as a whole changes the way it thinks. This is why we decided to open the exhibition up to the public. We will not achieve a sustainable rethink in the workforce if the company only takes individual measures.
Have you got a tip for visiting this exhibition?
HN: To go to the exhibition with an open mind and to get the most out of each exhibit; I guarantee it will change you.
SV: To take the time to ponder and reflect on the impressions you get from the exhibition – you will get more than twice this time back in return!